Dear Santa,
I know how busy you are but I have a few ideas I want to run past you. OK?
They're all to do with Pat's petition – yeah I thought that was a great idea too. Told all my friends who told their friends and they all signed my petition. Brilliant. That's what I needed.
I asked some nice people at lots of the charities too. They were well impressed and passed it around on someat called Twitter and put the petition on their sites. That was good and gave the petition publicity but I need more signatures – lots more. Time is against me.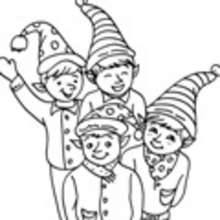 One of my helpers, you call yours Elves don't you Santa? I like that. Anyway one of my helpers said I should ask some of the Voluntary sector people. They came good and you know what? The numbers shot right up. I could hear the countometer thingy going whoosh it was amazing. Well pleased I was too.
I found little pockets of people in even littler places all wanting to help. It was amazing.
Do you know Santa what was specially magical for me? What can be more fitting at Christmas than some Holy men sending their blessings to us? Even more special is one very very important Holy man who is praying for all of us.
Thank you to them all.
I know you're very busy Santa but can you help me a little more? Will you tell all these ever so nice people, who made that counter thing go so high, that I will be back in January? Gonna ask again for their help to get right up to them 10's of thousands. Tell them that time is running out for all of us and ignoring me is not an option.
Will you be sure and tell them I need their votes please Santa?
I'm gonna fight on for all those disabled people, all them carers and their families who love them.
Thank you.
Pat x
 Please sign Pat's Petition here and ask your family, friends and contacts to do the same.
If you belong to a group/charity that has a newsletter, please ask them to share these details with their members. It is vital we reach as many disabled people, and their families as possible. Time is running out